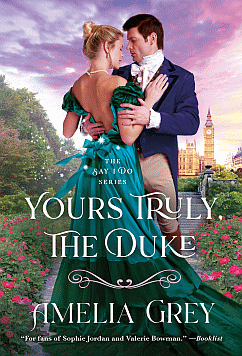 YOURS TRULY, THE DUKE
Say I Do Book 1
Mass Market Paperback
St. Martin's Paperbacks
March 28, 2023
ISBN-10: 125085041X
ISBN-13: 978-1250850416
Coming March 28, 2023!
YOURS TRULY, THE DUKE
Say I Do Book 1
At the top of his game in fencing, cards, and social life, the Duke of Wyatthaven has no interest in marriage. However, Wyatt has just found out he has to marry by week's end or lose a sizable inheritance from his grandmother. When Wyatt's solicitor finds the perfect young lady, who also needs to marry, Wyatt considers this little hiccup solved. Miss Hale is suitable to be Wyatt's wife in every aspect that would be of importance. She's lovely in countenance, disposition, and intelligence. Most importantly, she prefers the country life to London and is guardian for her late sister's children, so he doesn't have to rush to have an heir to make her happy.
Fredericka Hale needs a husband and fast. She's been caring for her deceased sister's three young children for over a year. Now, an older married but childless cousin has petitioned Chancery Court to take the children from Fredericka and raise them as her own. Fredericka's solicitor has assured her she will have a better chance of keeping the children if she is married. The last thing Fredericka wants is a hurried-up marriage to a man she doesn't love, but she will do it for the children. When the wild Duke of Wyatthaven proposes, she accepts. But things seldom happen as one plans, and circumstances force Fredericka to show up at the duke's door and announce she and the children must live with him in London as a proper couple and family should. But will the duke give up his bachelor lifestyle and give into the attraction growing between them?
PRE-ORDER NOW AT: